American economist of the Austrian school, professor at Pace University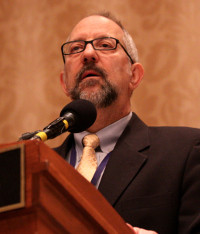 Joseph T. Salerno (born 1950) is an American Austrian School economist who is Professor of Economics, Chair of the economics graduate program in the Lubin School of Business at Pace University and Academic Vice President of the Ludwig von Mises Institute. He earned his B.A. at Boston College and his M.A. and Ph.D. at Rutgers University.
The introductory paragraph uses material from the Wikipedia article "Joseph Salerno" as of 28 Dec 2017, which is released under the Creative Commons Attribution-Share-Alike License 3.0.