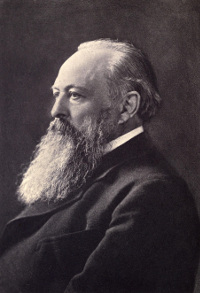 John Emerich Edward Dalberg-Acton, 1st Baron Acton, KCVO DL (10 January 1834 - 19 June 1902), was an English Catholic historian, politician and writer. He was the only son of Sir Ferdinand Dalberg-Acton, 7th Baronet and a grandson of the Neapolitan admiral Sir John Acton, 6th Baronet. From 1837 to 1869 he was known as Sir John Dalberg-Acton, 8th Baronet.
He is perhaps best known for the remark in a letter to an Anglican bishop, "Power tends to corrupt, and absolute power corrupts absolutely. Great men are almost always bad men,..."
This article uses material from the Wikipedia article "John Dalberg-Acton" as of 13 Mar 2018, which is released under the Creative Commons Attribution-Share-Alike License 3.0.