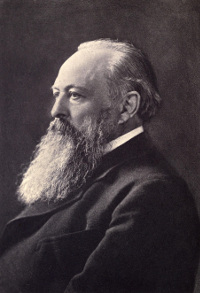 John Emerich Edward Dalberg-Acton, 1st Baron Acton, KCVO DL (10 January 1834 – 19 June 1902), was an English Catholic historian, politician and writer. He was the only son of Sir Ferdinand Dalberg-Acton, 7th Baronet and a grandson of the Neapolitan admiral and prime minister Sir John Acton, 6th Baronet. Between 1837 and 1869 he was known as Sir John Dalberg-Acton, 8th Baronet.
He is perhaps best known for the remark, "Power tends to corrupt, and absolute power corrupts absolutely. Great men are almost always bad men ...",which he made in a letter to an Anglican bishop.
This article uses material from the Wikipedia article "John Dalberg-Acton, 1st Baron Acton" as of 31 Jul 2018, which is released under the Creative Commons Attribution-Share-Alike License 3.0.