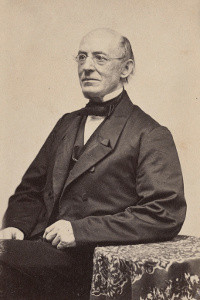 William Lloyd Garrison (10 December 1805 – 24 May 1879) was a prominent American abolitionist, journalist, suffragist and social reformer. He is best known as the editor of the abolitionist newspaper The Liberator, which he founded with Isaac Knapp in 1831 and published in Massachusetts until slavery was abolished by Constitutional amendment after the American War Between the States. He was one of the founders of the American Anti-Slavery Society, and promoted "immediate emancipation" of slaves in the United States.
Born in Newburyport, Massachusetts, Garrison began his newspaper career as an apprentice compositor for the Newburyport Herald. He became involved in the anti-slavery movement in the 1820s, and over time he rejected both the American Colonization Society and the gradualist views of most others involved in the movement. Garrison co-founded The Liberator to espouse his abolitionist views, and in 1832 he organized the New-England Anti-Slavery Society. This society expanded into the American Anti-Slavery Society, which espoused the position that slavery should be abolished immediately. Garrison also emerged as a leading advocate of women's rights, which prompted a split in the abolitionist community. In the 1870s, Garrison became a prominent voice for the women's suffrage movement.
This article uses material from the Wikipedia article "William Lloyd Garrison" as of 24 Jul 2018, which is released under the Creative Commons Attribution-Share-Alike License 3.0.