Emporion is a Greek word meaning "trading station" (derived from emporos meaning "merchant" or "traveler"). Through Freedom Emporion, visitors can acquire books, media and other products about freedom or that may enhance their freedom, while at the same time helping the work of Freedom Circle.
Featured Product
Man, Economy, and State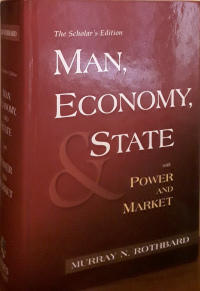 Man, Economy, and State: A Treatise on Economic Principles is an economics treatise authored by Murray Rothbard. It was commissioned by the William Volker Fund and was published in 1962 in two volumes by D. Van Nostrand Company. It presents economics from an Austrian School perspective.
Browse products:
A
B
C
D
F
G
H
L
M
N
O
P
S
T
V
W