Featured Place
Brazil (Portuguese: Brasil), officially the Federative Republic of Brazil (Portuguese: República Federativa do Brasil), is the largest country in both South America and Latin America. At 8.5 million square kilometers and with over 208 million people, Brazil is the world's fifth-largest country by area and the sixth most populous. The capital is Brasília and the most populated city is São Paulo. The federation is composed of the union of the Federal District, the 26 states and the 5,570 municipalities. It is the largest country to have Portuguese as an official language and the only one in the Americas, besides being one of the most multicultural and ethnically diverse nations, due to the strong immigration from various places in the world.
FreedomCircle.com provides resources to help you understand what has been called the "philosophy of liberty."
Begin by clicking on one of the items on the Individual-Society graphic below, use the Search box above or follow the navigation links above (or possibly on the left).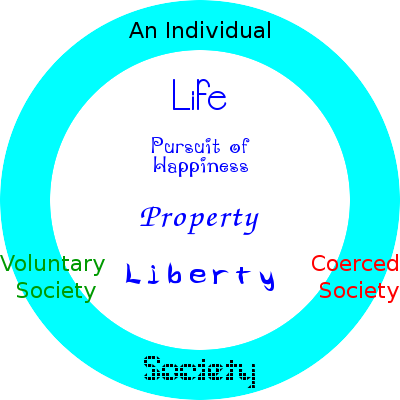 The Freedom Circle directory is an extensive reference on topics of freedom and liberty, human life and rational thought, and the economic, legal, political and other aspects conducive to freedom.
IMPORTANT: To show more entries on a given page, selected quotes are no longer immediately visible by default. On a mobile device, please tap on an entry to view the corresponding quote. On desktops and laptops, the quotes become visible as the cursor moves over the entries. The "Show/Hide quotes" button can used to control this visibility.