Featured Topic
Philosophy (from Greek φιλοσοφία, philosophia, literally "love of wisdom") is the study of general and fundamental problems concerning matters such as existence, knowledge, values, reason, mind and language. The term was probably coined by Pythagoras (c. 570–495 BCE). Philosophical methods include questioning, critical discussion, rational argument and systematic presentation. Classic philosophical questions include: Is it possible to know anything and to prove it? What is most real? Philosophers also pose more practical and concrete questions such as: Is there a best way to live? Is it better to be just or unjust (if one can get away with it)? Do humans have free will?
FreedomCircle.com provides resources to help you understand what has been called the "philosophy of liberty."
Begin by clicking on one of the items on the Individual-Society graphic below, use the Search box above or follow the navigation links above (or possibly on the left).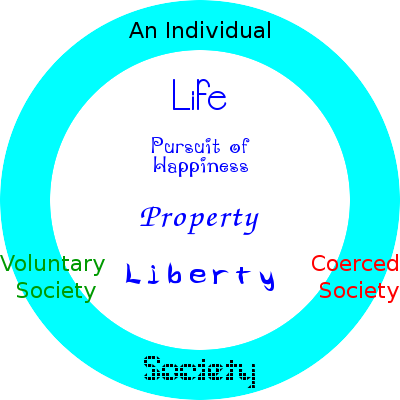 The Freedom Circle directory is an extensive reference on topics of freedom and liberty, human life and rational thought, and the economic, legal, political and other aspects conducive to freedom.
IMPORTANT: To show more entries on a given page, selected quotes are no longer immediately visible by default. On a mobile device, please tap on an entry to view the corresponding quote. On desktops and laptops, the quotes become visible as the cursor moves over the entries.