Featured Place
New Zealand (Māori: Aotearoa) is a sovereign island country in the southwestern Pacific Ocean. The country geographically comprises two main landmasses—the North Island (Te Ika-a-Māui), and the South Island (Te Waipounamu)—and around 600 smaller islands. New Zealand is situated some 1,500 kilometers east of Australia across the Tasman Sea and roughly 1,000 kilometers south of the Pacific island areas of New Caledonia, Fiji and Tonga. Because of its remoteness, it was one of the last lands to be settled by humans. During its long period of isolation, New Zealand developed a distinct biodiversity of animal, fungal, and plant life. The country's varied topography and its sharp mountain peaks, such as the Southern Alps, owe much to the tectonic uplift of land and volcanic eruptions. New Zealand's capital city is Wellington, while its most populous city is Auckland.
FreedomCircle.com provides resources to help you understand what has been called the "philosophy of liberty."
Begin by clicking on one of the items on the Individual-Society graphic below, use the Search box above or follow the navigation links above (or possibly on the left).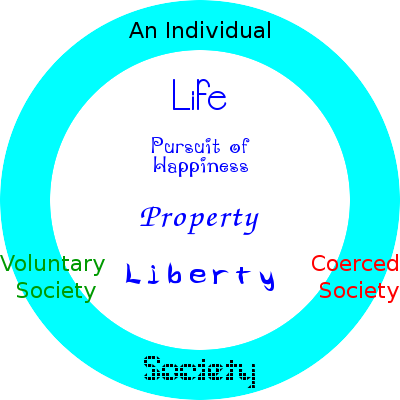 The Freedom Circle directory is an extensive reference on topics of freedom and liberty, human life and rational thought, and the economic, legal, political and other aspects conducive to freedom.
IMPORTANT: To show more entries on a given page, selected quotes are no longer immediately visible by default. On a mobile device, please tap on an entry to view the corresponding quote. On desktops and laptops, the quotes become visible as the cursor moves over the entries.