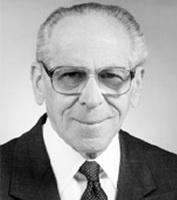 Thomas Stephen Szasz (15 April 1920 - 8 September 2012) was a psychiatrist and academic, a Fellow of the American Psychiatric Association, a member of the American Psychoanalytic Association, a professor of psychiatry at the State University of New York, and starting in 1990, he was professor emeritus of psychiatry at the State University of New York Upstate Medical University in Syracuse. He was well known as a social critic of the moral and scientific foundations of psychiatry, of what he saw as social control aims of medicine in modern society, and scientism. His books The Myth of Mental Illness (1961) and The Manufacture of Madness (1970) set out some of the arguments most associated with him.
Szasz argued that mental illnesses are not real in the sense that cancers are real. Except for a few identifiable brain diseases, such as Alzheimer's disease, there are "neither biological or chemical tests nor biopsy or necropsy findings for verifying or falsifying DSM diagnoses", i.e. there are no objective methods for detecting the presence or absence of mental illness. Szasz thought that if there is no physical disease, then there is no patient, no one to treat.
His views on special treatment followed from libertarian roots, based on the principles that each person has the right to bodily and mental self-ownership and the right to be free from violence from others, although he criticized the "Free World" as well as the communist states for their use of psychiatry. He believed that suicide, the practice of medicine, the use and sale of drugs and sexual relations should be private, contractual and legal.
This article uses material from the Wikipedia article "Thomas Szasz" as of 04 Jan 2015, which is released under the Creative Commons Attribution-Share-Alike License 3.0.