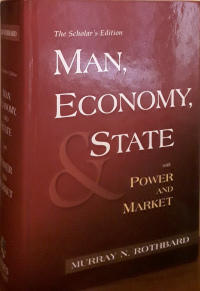 Man, Economy, and State: A Treatise on Economic Principles is a 1962 book on economics by Murray Rothbard.
When originally published in 1962, the final eight chapters were removed by the publisher; these were later published as Power and Market in 1970. The 2009 edition published by the Mises Institute combines both books in a single volume which provides a discussion of both microeconomics and macroeconomics.
---
This article is derived from the English Wikipedia article "Man, Economy, and State" as of 27 Mar 2018, which is released under the Creative Commons Attribution-Share-Alike License 3.0.