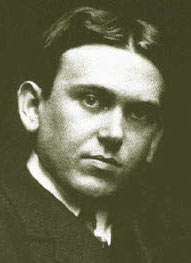 Henry Louis "H. L." Mencken (12 September 1880 - 29 January 1956) was a German-American journalist, satirist, cultural critic and scholar of American English. Known as the "Sage of Baltimore", he is regarded as one of the most influential American writers and prose stylists of the first half of the twentieth century. As a scholar Mencken is known for The American Language, a multi-volume study of how the English language is spoken in the United States. His satirical reporting on the Scopes trial, which he dubbed the "Monkey Trial", also earned him notoriety. He commented widely on the social scene, literature, music, prominent politicians and contemporary movements.
As an admirer of German philosopher Friedrich Nietzsche, he was a detractor of religion, populism and representative democracy, which he believed was a system in which inferior men dominated their superiors. Mencken was a supporter of scientific progress, skeptical of economic theories and critical of osteopathic and chiropractic medicine.
Mencken opposed American entry into World War I and World War II. His diary indicates that he harbored strong racist and anti-Semitic attitudes, and was sympathetic to the Social Darwinism practiced by the Nazis.
Mencken's longtime home in the Union Square neighborhood of West Baltimore has been turned into a city museum, the H. L. Mencken House. His papers were distributed among various city and university libraries, with the largest collection held in the Mencken Room at the central branch of Baltimore's Enoch Pratt Free Library.
This article uses material from the Wikipedia article "H. L. Mencken" as of 07 Feb 2016, which is released under the Creative Commons Attribution-Share-Alike License 3.0.