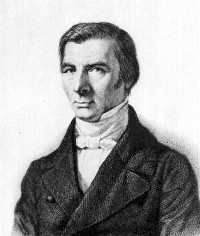 Claude Frédéric Bastiat (30 June 1801 – 24 December 1850) was a French economist and writer who was a prominent member of the French Liberal School.
Bastiat developed the economic concept of opportunity cost and for introduced the parable of the broken window. He was also a Freemason and member of the French National Assembly.
As an advocate of classical economics and the economics of Adam Smith, his views favored a free market and influenced the Austrian School.
This article uses material from the Wikipedia article "Frédéric Bastiat" as of 14 Jul 2018, which is released under the Creative Commons Attribution-Share-Alike License 3.0.