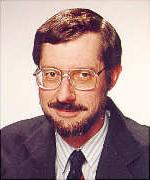 Hooray! Thanks to airline deregulation, anyone can fly across the country for just a few hundred bucks—or less. It's not even that hard to get a ticket to Denmark or Indonesia.
Boo! Airports are congested, departures are often delayed, lines are too long, clerks are harried, travelers are squished. There is "too much" consumer demand, and "the problem" of more and more people wanting to hop a plane will only grow in the months and years ahead.
Solution? Bring on the re-regulation! Hike ticket prices to a million bucks a pop! That'll thin the crowds some.
Or: How about finishing the revolution? Let's have markets for the airports themselves, and for the air traffic control system too. Let's put an end to the galumphing stewardship of the Federal Aviation Administration.
Enter Bob Poole, quondam engineer, "gradualist" libertarian radical par excellence, and head honcho of the Reason Foundation that Poole along with Tibor Machan and Manny Klausner established in the late 70s. Though created primarily as a means of saving the libertarian magazine Reason (which the dynamic trio had taken over from founder Lanny Friedlander), the Foundation quickly developed in directions of its own.
"When we started, we were primarily trying to create a solid framework within which to publish Reason magazine," Poole told Full Context. "We had some vague ideas about doing other research and educational things, including my book on privatization....By the end of our first decade, we'd long since abandoned academic work and decided that our real competence lies in domestic public policy research, complementing the magazine's educational/outreach role. Today, the Reason Public Policy Institute actually has more staff than Reason magazine, though the magazine has a larger budget. The two work hand in hand, with the magazine doing the longer-term educational role while RPPI tries to craft workable solutions to real public policy problems in the here and now."
Poole's very first article for Reason had dealt with airline deregulation, and that remains one of his premier areas of expertise. He was among the first to propose the privatization of air traffic control, and in a recent exclusive interview with TDO he told us that proposals put forward by himself and others to create an air traffic control "corporation" are making headway. In fact, he sees a chance for a major legislative breakthrough as early as next year.
This Fabian subversive has the wind at his back these days. Canada is among the 15 or so countries that have restructured their air traffic control systems to permit greater independence and flexibility in the handling of air traffic. Privatized or "corporatized" airports around the world provide the model and the proof that a better way to run airports is possible. All the U.S. has to do now is catch up.
Thanks to Bob Poole, the friendly skies may be getting a little bit friendlier. And thanks to Poole and everyone else who has ever worked for Reason Foundation and Reason Magazine, the Leviathan State just might get chipped down to size.
Copyright © 2000, The Daily Objectivist - Reprinted with permission of The Daily Objectivist and Davidmbrown.com.
28 Apr 2009