1980 movie about the court martial of "Breaker" Morant and subordinates during the Second Boer War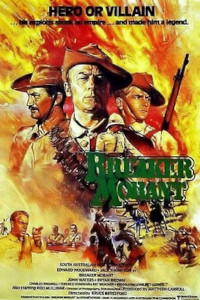 Breaker Morant is a 1980 Australian war drama film directed by Bruce Beresford, who also co-wrote the screenplay which was based on Kenneth G. Ross' 1978 play of the same name. The film concerns the 1902 court martial of Lieutenants Harry Morant, Peter Handcock and George Witton—one of the first war crime prosecutions in British military history. Australians serving in the British Army during the Second Anglo-Boer War, Lts. Morant, Handcock and Witton stood accused of murdering captured enemy combatants and an unarmed civilian in the Northern Transvaal. The film is notable for its exploration of the Nuremberg Defense, the politics of the death penalty and the human cost of total war. As the trial unfolds, the events in question are shown in flashbacks.
The introductory paragraph uses material from the Wikipedia article "Breaker Morant (film)" as of 5 Oct 2018, which is released under the Creative Commons Attribution-Share-Alike License 3.0.