1962 movie, based on Harper Lee's novel, about Atticus Finch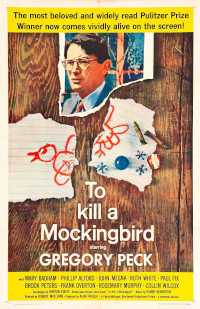 To Kill a Mockingbird is a 1962 American drama film directed by Robert Mulligan. The screenplay by Horton Foote is based on Harper Lee's 1960 Pulitzer Prize-winning novel of the same name. It stars Gregory Peck as Atticus Finch and Mary Badham as Scout. To Kill a Mockingbird marked the film debuts of Robert Duvall, William Windom and Alice Ghostley.
Web Pages
Video Products
To Kill a Mockingbird 50th Anniversary Edition, 31 Jan 2012
To Kill a Mockingbird (Collector's Edition)
, 29 Apr 1998
Reviews
To Kill a Mockingbird (1962)
by Jon Osborne, Miss Liberty's Guide to Film and Video, 2001
Social tolerance is the theme here, as events in a southern Depression town are used to show a young girl's development of a live-and-let-live attitude toward those unlike herself. ... [She] is told that 'It's a sin to kill a mockingbird,' because mockingbirds do no harm to others. By the end of the film, she has transferred tha concept to human relations: doing harm to harmless others, no matter how different they might be, is likewise wrong. This is a theme that libertarians will certainly like, and it has as well a suggestion of the nonagression principle.
The introductory paragraph uses material from the Wikipedia article "To Kill a Mockingbird (film)" as of 17 Oct 2018, which is released under the Creative Commons Attribution-Share-Alike License 3.0.