1984 historical drama about the Khmer Rouge regime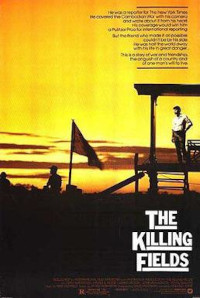 The Killing Fields is a 1984 British biographical drama film about the Khmer Rouge regime in Cambodia, which is based on the experiences of two journalists: Cambodian Dith Pran and American Sydney Schanberg. It was directed by Roland Joffé and produced by David Puttnam for his company Goldcrest Films. Sam Waterston stars as Schanberg, Haing S. Ngor as Pran, Julian Sands as Jon Swain and John Malkovich as Al Rockoff. The adaptation for the screen was written by Bruce Robinson; the musical score was written by Mike Oldfield and orchestrated by David Bedford.
Web Pages
Reviews
The Killing Fields (1984)
by Jon Osborne, Miss Liberty's Guide to Film and Video
... as might be expected, this is a suspenseful and touching film. Dr. Haing S. Ngor is very effective as Dith Pran ... One additional contribution made by the film is that it popularized the term "killing fields." It's a term that has been may times since, as in "Saddam's Killing Fields," "Bosnia's Killing Fields," etc. It's useful to have such a descriptive epithet for government mass murder in a century like the one just ending.
The Killing Fields (1984)
, by Stephen W. Carson
This film tells that story through the perspective of New York Times reporter Sydney Schanberg (Sam Waterston) and his Cambodian counterpart Dith Pran (Dr. Haing S Ngor). ... Memorable images abound including the forced expulsion from the cities, the children Khmer Rouge soldiers (half of whom were under 15) and, of course, the killing fields.
The introductory paragraph uses material from the Wikipedia article "The Killing Fields (film)" as of 1 Oct 2018, which is released under the Creative Commons Attribution-Share-Alike License 3.0.