Fourth broadcast episode of The Prisoner, where Number Six becomes Number Two for a short while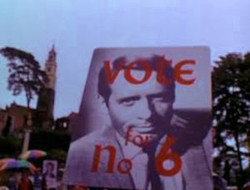 "Free For All" is an episode of the British science fiction-allegorical series, The Prisoner. It originally aired in the UK on ITV on 20 October 1967. This episode was filmed second, and was titled "Episode Two". It is usually broadcast fourth, but is located second in The Prisoner DVD Megaset.
Related Topics
Memorable Scenes
Number 2 introduces Number 6 to the crowd
Number 2: Good people of our community.
(The Butler shows "ra ra ra" sign)
Crowd: Ra! Ra! Ra!
Number 2: There's recently a lack of opposition in the matter of free elections. This is not good for our community and reflects an acceptance of things as they are. We know what we must do. What must we do?
(The Butler shows "progress progress progress" sign)
Crowd: Progress! Progress! Progress! Progress! Progress!
Number 2: Exactly. We are, however, fortunate to have with us a recent recruit whose outlook is particularly militant and individualistic ...
Crowd: Ra! Ra!
Number 2: Let us hope that he will not deny his duty to the community by refusing to take up the challenge. Good people, it is my pleasure to present to you the one and only Number Six!
Crowd: Ra!
Number 6: I am not a number. I am a person.
Crowd: (laughs)
Number 2 trying to convince Number 6 to run for his office
Crowd (outside, chanting): Number Two! Number Two!
Number 6: Looks like a unanimous majority.
Number 2: Exactly, that's what's worrying me. Very bad for morale. Some of these good people don't seem to appreciate the value of free elections. They think it's a game.
Number 6: Everyone votes for a dictator.
The introductory paragraph uses material from the Wikipedia article "Free For All (The Prisoner)" as of 7 May 2018, which is released under the Creative Commons Attribution-Share-Alike License 3.0.