1989 movie about a teacher who inspires his students to seize the day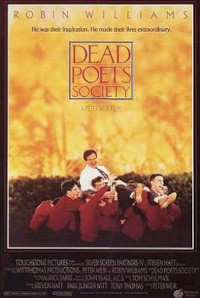 Dead Poets Society is a 1989 American drama film directed by Peter Weir, written by Tom Schulman and starring Robin Williams. Set in 1959 at the fictional elite conservative Vermont boarding school Welton Academy, it tells the story of an English teacher who inspires his students through his teaching of poetry.
Web Pages
Video Products
Dead Poets Society (1989)
, 10 Nov 1998
Dead Poets Society [Blu-ray] (1989)
, 17 Jan 2012
Dead Poets Society (Special Edition) (1989)
, 10 Jan 2006
Memorable Lines
Mr. Keating while collecting the ripped pages
Starting at 5:07 in the "1st Day of Class" clip below
Keep ripping, gentlemen! This is a battle, a war, and the casualties could be your hearts and souls. Thank you, Mr. Dalton. Armies of academics going forward, measuring poetry. No! We'll not have that here, no more of Mr. J. Evans Pritchard. Now in my class you'll learn to think for yourselves again. You'll learn to savor words and language. No matter what anybody tells you, words and ideas can change the world.
Reviews
Dead Poets Society (1989)
by Jon Osborne, Miss Liberty's Guide to Film and Video, 2001
... the film ... dramatizes the effects of a clear case of life-destroying discipline. The (good) romantic English teacher has ideas of awakening the soul of his students through poetry, of making them freethinkers, and of encouraging individualism. He is opposed by two (bad) realists. ... The second is the parent of one of the students, who is hell-bent on making his kid a doctor whether he wants to be one or not.
The introductory paragraph uses material from the Wikipedia article "Dead Poets Society" as of 12 Oct 2018, which is released under the Creative Commons Attribution-Share-Alike License 3.0.