1994 Zhang Yimou film telling the struggles of a Chinese family from the 1940s through the Cultural Revolution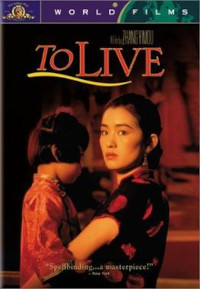 To Live, also titled Lifetimes in some English versions, is a 1994 Chinese epic film directed by Zhang Yimou, starring Ge You and Gong Li, and produced by the Shanghai Film Studio and ERA International. It is based on the novel of the same name by Yu Hua. Having achieved international success with his previous films (Ju Dou and Raise the Red Lantern), director Zhang Yimou's To Live came with high expectations. It is the first Chinese film that had its foreign distribution rights pre-sold.
The introductory paragraph uses material from the Wikipedia article "To Live (film)" as of 11 Aug 2018, which is released under the Creative Commons Attribution-Share-Alike License 3.0.