1975 movie following two British officers as they aim to become kings of Kafiristan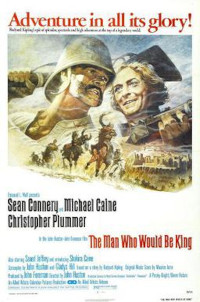 The Man Who Would Be King is a 1975 Technicolor adventure film adapted from the Rudyard Kipling novella of the same title. It was adapted and directed by John Huston and starred Sean Connery, Michael Caine, Saeed Jaffrey and Christopher Plummer as Kipling (giving a name to the novella's anonymous narrator). The film follows two rogue ex-soldiers, former non-commissioned officers in the British Army, who set off from late 19th-century British India in search of adventure and end up in faraway Kafiristan, where one is taken for a god and made their king.
The introductory paragraph uses material from the Wikipedia article "The Man Who Would Be King (film)" as of 9 Sep 2018, which is released under the Creative Commons Attribution-Share-Alike License 3.0.