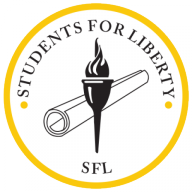 Students For Liberty (SFL) is an American libertarian non-profit organization whose stated mission is "to provide a unified, student-driven forum of support for students and student organizations dedicated to liberty". Formed in 2008 after a meeting at which students shared ideas and experiences about libertarian student groups, SFL has since grown into a full organization with various programs and a network of affiliated student groups.
The organization hosts an annual international conference as well as various regional conferences. As of 2014, the SFL network self-reported that it had a membership of 1,000 student organizations around the world. SFL's expansion is encouraged and supported by current students involved in its Campus Coordinators program.
This article uses material from the Wikipedia article "Students for Liberty" as of 19 Jan 2016, which is released under the Creative Commons Attribution-Share-Alike License 3.0.