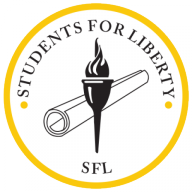 Students For Liberty (SFL) is an international libertarian non-profit organization (with origins in the United States whose stated mission is "to educate, develop, and empower the next generation of leaders of liberty". Formed in 2008 after a meeting at which students shared ideas and experiences about classical liberal student groups, SFL has since grown into a full organization with various programs and a network of affiliated student groups.
The organization hosts an annual international conference as well as various regional conferences. As of 2014, the SFL network self-reported that it had a membership of 1,000 student organizations around the world. SFL's expansion is encouraged and supported by current students involved in its Campus Coordinators program.
On 1 August 2016, Wolf von Laer became the Chief Executive Officer.
---
This article is derived from the English Wikipedia article "Students for Liberty" as of 16 Jul 2018, which is released under the Creative Commons Attribution-Share-Alike License 3.0.