Non-profit public policy research foundation in Washington, DC
See also: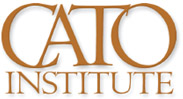 The Cato Institute is an American libertarian think tank headquartered in Washington, D.C. It was founded as the Charles Koch Foundation in 1974 by Ed Crane, Murray Rothbard and Charles Koch, chairman of the board and chief executive officer of the conglomerate Koch Industries. In July 1976, the name was changed to the Cato Institute. Cato was established to have a focus on public advocacy, media exposure and societal influence. According to the 2017 Global Go To Think Tank Index Report (Think Tanks and Civil Societies Program, University of Pennsylvania), Cato is number 15 in the "Top Think Tanks Worldwide" and number 10 in the "Top Think Tanks in the United States".
The introductory paragraph uses material from the Wikipedia article "Cato Institute" as of 8 Jul 2018, which is released under the Creative Commons Attribution-Share-Alike License 3.0.