Worldwide network of pro-liberty students and student organizations
See also: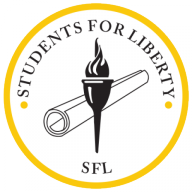 Students For Liberty (SFL) is an international libertarian non-profit organization (with origins in the United States whose stated mission is "to educate, develop, and empower the next generation of leaders of liberty". Formed in 2008 after a meeting at which students shared ideas and experiences about classical liberal student groups, SFL has since grown into a full organization with various programs and a network of affiliated student groups.
The introductory paragraph uses material from the Wikipedia article "Students for Liberty" as of 16 Jul 2018, which is released under the Creative Commons Attribution-Share-Alike License 3.0.