1971 Woody Allen comedy about populist revolutions in Latin America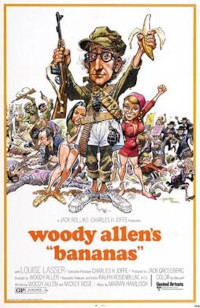 Bananas is a 1971 American comedy film directed by Woody Allen and starring Allen, Louise Lasser and Carlos Montalban. Written by Allen and Mickey Rose, the film is about a bumbling New Yorker who, after being dumped by his activist girlfriend, travels to a tiny Latin American nation and becomes involved in its latest rebellion. Parts of the plot are based on the book Don Quixote, U.S.A. by Richard P. Powell.
The introductory paragraph uses material from the Wikipedia article "Bananas (film)" as of 21 Aug 2018, which is released under the Creative Commons Attribution-Share-Alike License 3.0.