1982 biographical movie about Mohandas K. Gandhi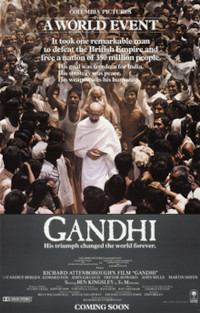 Gandhi is a 1982 epic historical drama film based on the life of Mohandas Karamchand Gandhi, the leader of India's non-violent, non-cooperative independence movement against the United Kingdom's rule of the country during the 20th century. The film, a British-Indian co-production, was written by John Briley and produced and directed by Richard Attenborough. It stars Ben Kingsley in the title role.
Related Topics
Cast and Crew
Candice Bergen
Margaret Bourke-White
Ben Kingsley
Mahatma Gandhi
Richard Attenborough
Director, Producer
Web Pages
Video Products
Gandhi (BD Live) (1982)
, 17 Feb 2009
Gandhi (Widescreen Two-Disc Collector's Edition) (1982)
, 20 Feb 2007
Memorable Lines
The introductory paragraph uses material from the Wikipedia article "Gandhi (film)" as of 9 Oct 2018, which is released under the Creative Commons Attribution-Share-Alike License 3.0.