1982 biographical movie about Mohandas K. Gandhi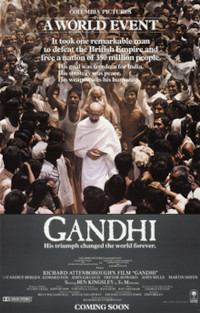 Gandhi is a 1982 epic historical drama film based on the life of Mohandas Karamchand Gandhi, the leader of India's non-violent, non-cooperative independence movement against the United Kingdom's rule of the country during the 20th century. The film, a British-Indian co-production, was written by John Briley and produced and directed by Richard Attenborough. It stars Ben Kingsley in the title role.
The introductory paragraph uses material from the Wikipedia article "Gandhi (film)" as of 9 Oct 2018, which is released under the Creative Commons Attribution-Share-Alike License 3.0.