1967 western movie starring Paul Newman in the title role: a white man raised by Apaches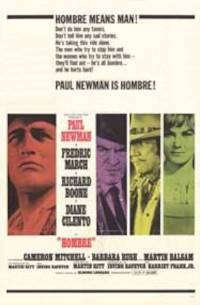 Hombre is a 1967 revisionist western film directed by Martin Ritt, based on the novel of the same name by Elmore Leonard and starring Paul Newman, Fredric March, Richard Boone, Martin Balsam and Diane Cilento. Newman's amount of dialogue in the film is minimal and much of the role is conveyed through mannerism and action.
The introductory paragraph uses material from the Wikipedia article "Hombre (film)" as of 29 Jul 2018, which is released under the Creative Commons Attribution-Share-Alike License 3.0.