1977 science fiction movie, known as "Episode IV: A New Hope", first release of the series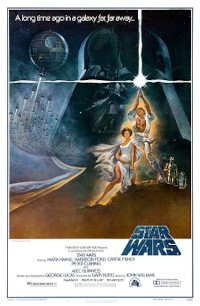 Star Wars (later retitled Star Wars: Episode IV - A New Hope) is a 1977 American epic space opera film written and directed by George Lucas. It is the first film in the original Star Wars trilogy and the beginning of the Star Wars franchise. Starring Mark Hamill, Harrison Ford, Carrie Fisher, Peter Cushing, Alec Guinness, David Prowse, James Earl Jones, Anthony Daniels, Kenny Baker and Peter Mayhew, the film focuses on the Rebel Alliance, led by Princess Leia (Fisher), and its attempt to destroy the Galactic Empire's space station, the Death Star.
The introductory paragraph uses material from the Wikipedia article "Star Wars (film)" as of 9 Oct 2018, which is released under the Creative Commons Attribution-Share-Alike License 3.0.