1991 Oliver Stone movie presenting an alternative to the official story of 22 Nov 1963 in Dallas, Texas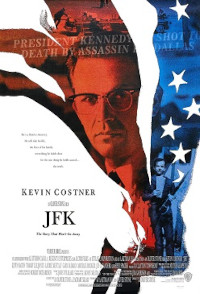 JFK is a 1991 American conspiracy-thriller film directed by Oliver Stone. It examines the events leading to the assassination of John F. Kennedy and alleged cover-up through the eyes of former New Orleans district attorney Jim Garrison (Kevin Costner). Garrison filed charges against New Orleans businessman Clay Shaw (Tommy Lee Jones) for his alleged participation in a conspiracy to assassinate the President, for which Lee Harvey Oswald (Gary Oldman) was found responsible by the Warren Commission.
Related Individuals
Cast and Crew
Kevin Costner
Jim Garrison
Oliver Stone
Director, screenplay, producer
Web Pages
Video Products
JFK (Director's Cut) (2003), 4 Jan 2011
Articles
Who Killed JFK? The Media Whitewash
, by Carl Oglesby, Lies of Our Times, Sep 1991
Examines how several mainstream newspapers and media outlets started criticizing and attacking JFK while the movie was still being made
Oliver Stone's current film-in-progress, JFK, dealing with the assassination of President John F. Kennedy, is still months from theaters, but already the project has been sharply attacked by journalists who ordinarily could not care less what Hollywood has to say about such great events as the Dealey Plaza shooting of November 22, 1963. ... JFK is based chiefly on Louisiana Judge Jim Garrison's 1988 memoir, On the Trail of the Assassins ..., in which Garrison tells of his frustrated attempts to expose the conspiracy that he (and the vast majority of the American people) believes responsible for the murder at Dealey Plaza.
Reviews
JFK (1991)
, by Stephen W. Carson
The driving force of the film is a mystery... What really happened on November 22, 1963? As revealed in the director commentary on the film, Stone is not particularly attached to the theory the film puts forward about what happened that day. His main thrust is to make viewers dissatisfied with the official explanation. That he accomplishes with great skill.
The J.F.K. Flap
, by
Murray N. Rothbard
, The Rothbard-Rockwell Report, May 1992
Review of Oliver Stone's JFK (1991), including the media reaction and current theories on the Kennedy assassination
The most fascinating thing about JFK, as exciting and well-done as it is, is ... the hysterical attempt to marginalize ... it ... One particularly welcome aspect ... is its making Jim Garrison the central heroic figure. Garrison, one of the most viciously smeared figures in modern political history, was simply a district attorney trying to do his job in the most important criminal case of our time. Kevin Costner's expressionless style fits in well with the Garrison role, and Tommy Lee Jones is outstanding as the evil CIA-businessman conspirator Clay Shaw. All in all, a fine movie, for the history as well as the cinematics.
Videos
The introductory paragraph uses material from the Wikipedia article "JFK (film)" as of 17 Oct 2018, which is released under the Creative Commons Attribution-Share-Alike License 3.0.