1991 Oliver Stone movie presenting an alternative to the official story of 22 Nov 1963 in Dallas, Texas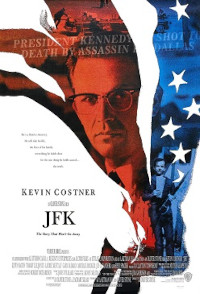 JFK is a 1991 American conspiracy-thriller film directed by Oliver Stone. It examines the events leading to the assassination of John F. Kennedy and alleged cover-up through the eyes of former New Orleans district attorney Jim Garrison (Kevin Costner). Garrison filed charges against New Orleans businessman Clay Shaw (Tommy Lee Jones) for his alleged participation in a conspiracy to assassinate the President, for which Lee Harvey Oswald (Gary Oldman) was found responsible by the Warren Commission.
The introductory paragraph uses material from the Wikipedia article "JFK (film)" as of 17 Oct 2018, which is released under the Creative Commons Attribution-Share-Alike License 3.0.