Thirty-fifth President of the United States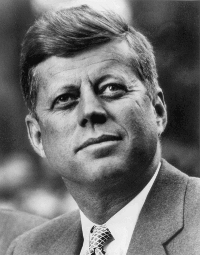 John Fitzgerald "Jack" Kennedy (29 May 1917 – 22 November 1963), commonly referred to by his initials JFK, was an American politician who served as the 35th President of the United States from January 1961 until his assassination in November 1963. He served at the height of the Cold War, and the majority of his presidency dealt with managing relations with the Soviet Union. As a member of the Democratic Party, Kennedy represented the state of Massachusetts in the United States House of Representatives and the U.S. Senate prior to becoming president.
The introductory paragraph uses material from the Wikipedia article "John F. Kennedy" as of 31 May 2018, which is released under the Creative Commons Attribution-Share-Alike License 3.0.