American revolutionary leader, organizer of the Boston Tea Party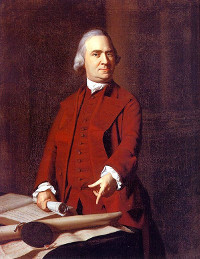 Samuel Adams (27 September [O.S. 16 September] 1722 – 2 October 1803) was an American statesman, political philosopher and one of the Founding Fathers of the United States. He was a politician in colonial Massachusetts, a leader of the movement that became the American Revolution, and one of the architects of the principles of American republicanism that shaped the political culture of the United States. He was a second cousin to fellow Founding Father, President John Adams.
The introductory paragraph uses material from the Wikipedia article "Samuel Adams" as of 16 Jun 2018, which is released under the Creative Commons Attribution-Share-Alike License 3.0.