Thirty-eighth President of the United States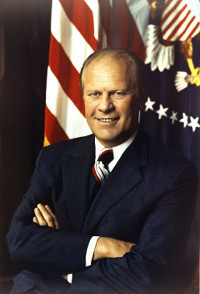 Gerald Rudolph Ford Jr. (born Leslie Lynch King Jr; 14 July 1913 – 26 December 2006) was an American politician who served as the 38th President of the United States from August 1974 to January 1977. Before his accession to the presidency, he served as the 40th Vice President of the United States from December 1973 to August 1974. Ford is the only person to have served as both vice president and president without being elected to either office. His 895 day-long presidency is the shortest in U.S. history for any president who did not die in office.
Born
Articles
What Exactly Did Gerald Ford Heal?
, by
Sheldon Richman
, 5 Jan 2007
Counters the argument that Gerald Ford, by pardoning Richard Nixon, "healed the nation"
The people had to be persuaded that ... the system was basically sound and good for the public welfare. What better way to accomplish this than to appoint nice-guy Jerry Ford as president? "The long national nightmare is over," Ford said. But it wasn't a nightmare for the American people. It was a nightmare for the power elite. Their very legitimacy was in peril. The debt to Ford for restoring their legitimacy is owed by those who hold and aspire to power, not by those who suffer under it. Thus, what Ford accomplished was to stanch a growing public cynicism about government and to restore complacency.
The introductory paragraph uses material from the Wikipedia article "Gerald Ford" as of 26 May 2018, which is released under the Creative Commons Attribution-Share-Alike License 3.0.