American journalist, author of The Roosevelt Myth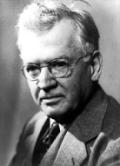 John Thomas Flynn (25 October 1882 – 13 April 1964) was an American journalist best known for his opposition to President Franklin D. Roosevelt and to American entry into World War II. In September 1940, Flynn helped establish the America First Committee (AFC). He was also the first to advance the Pearl Harbor advance-knowledge conspiracy theory.
The introductory paragraph uses material from the Wikipedia article "John T. Flynn" as of 21 Jul 2018, which is released under the Creative Commons Attribution-Share-Alike License 3.0.