Science fiction author, winner of the 1986 Prometheus Hall of Fame Award
See also: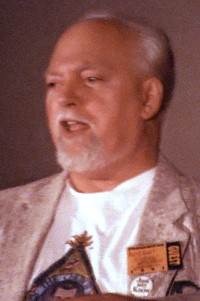 Robert Anton Wilson (born Robert Edward Wilson; 18 January 1932 – 11 January 2007) was an American author, novelist, essayist, editor, playwright, poet, futurist, and self-described agnostic mystic. Recognized as an Episkopos, Pope, and saint of Discordianism, Wilson helped publicize the group through his writings and interviews.
The introductory paragraph uses material from the Wikipedia article "Robert Anton Wilson" as of 19 Jul 2018, which is released under the Creative Commons Attribution-Share-Alike License 3.0.