Newsletter created by Ayn Rand (as The Objectivist Newsletter) in 1962 and edited by herself and Nathaniel Branden (until 1968)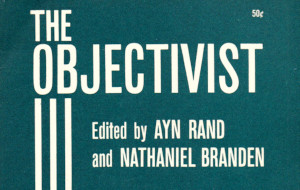 The Objectivist Newsletter was the first Objectivist periodical. It was co-published by Ayn Rand and Nathaniel Branden as a four-page newsletter starting in January 1962. The Objectivist was a 16-page magazine started in January 1966 to replace the previous newsletter, but with Rand and Branden continuing as co-editors. The final issue of The Objectivist was published in September 1971.
Related Topics
Reference
Objectivist: 1962-1976
by Robert Hessen, The Conservative Press in Twentieth-Century America, 1999
Ayn Rand created the Objectivist Newsletter, the first of her three periodicals, in 1962. In the inaugural issue, she began by denouncing conservatism ... It only would make sense to classify her as a conservative if the term is used loosely to signify opposition to twentieth-century statism. ... Based on the explosive growth of interest in Objectivism, Rand and Branden decided to launch a journal of ideas devoted to applying her philosophy to the problems and issues of contemporary American culture.
Publication Frequency
January 1962-September 1971
Monthly
October 1971-September 1974
Fortnightly
October 1974-February 1976
Monthly
Staff and Associates
Ayn Rand
Editor, January 1962-February 1976
Articles
Ayn Rand (1905–1982)
, by
Cato Institute
, Mar 2003
One of the "Three Women Who Launched a Movement" articles, celebrating during Women's History Month the 60th anniversary of the publication of The Fountainhead (as well as Rose Wilder Lane and Isabel Paterson books published in the same year)
For the next ten years [after the publication of Atlas Shrugged], [Rand] promoted her philosophy through her nonfiction writings—including The Virtue of Selfishness, Capitalism: The Unknown Ideal, and For the New Intellectual—her newsletter, The Objectivist, her column for the Los Angeles Times, and the Nathaniel Branden Institute ... until ... 1968. Rand would continue to publish The Objectivist, later renamed The Ayn Rand Letter, and lecture on college campuses.
The introductory paragraph uses material from the Wikipedia article "Objectivist periodicals" as of 5 Dec 2017, which is released under the Creative Commons Attribution-Share-Alike License 3.0.