1969 Costa-Gavras thriller about the inquiry into the murder of a politician advocating nuclear disarmament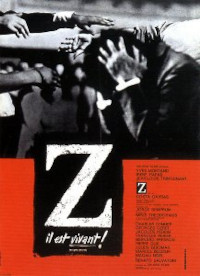 Z is a 1969 Algerian-French epic political thriller film directed by Costa-Gavras, with a screenplay by Gavras and Jorge Semprún, based on the 1966 novel of the same name by Vassilis Vassilikos. The film presents a thinly fictionalized account of the events surrounding the assassination of democratic Greek politician Grigoris Lambrakis in 1963. With its satirical view of Greek politics, its dark sense of humor and its downbeat ending, the film captures the outrage about the military dictatorship that ruled Greece at the time of its making.
The introductory paragraph uses material from the Wikipedia article "Z (1969 film)" as of 4 Sep 2018, which is released under the Creative Commons Attribution-Share-Alike License 3.0.