Political satirist, author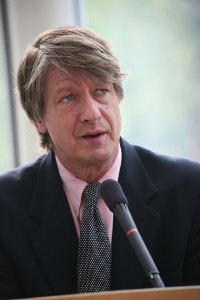 Patrick Jake O'Rourke (born 14 November 14 1947), known as P.J. O'Rourke, is an American political satirist and journalist. O'Rourke is the H. L. Mencken Research Fellow at the libertarian Cato Institute and is a regular correspondent for The Atlantic Monthly, The American Spectator and The Weekly Standard, and frequent panelist on National Public Radio's game show Wait Wait... Don't Tell Me!. Since 2011, he has been a columnist at The Daily Beast.
The introductory paragraph uses material from the Wikipedia article "P. J. O'Rourke" as of 5 Apr 2018, which is released under the Creative Commons Attribution-Share-Alike License 3.0.