Forty-fourth President of the United States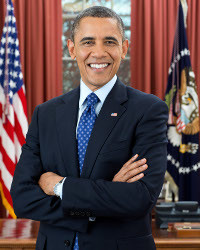 Barack Hussein Obama II (born 4 August 1961) is an American politician who served as the 44th President of the United States from 20 January 2009 to 20 January 2017. The first African American to assume the presidency, he was previously the junior United States Senator from Illinois from 2005 to 2008. Before that, he served in the Illinois State Senate from 1997 until 2004.
The introductory paragraph uses material from the Wikipedia article "Barack Obama" as of 6 Jun 2018, which is released under the Creative Commons Attribution-Share-Alike License 3.0.