1997 Steven Spielberg movie about the slave trade in the early 19th century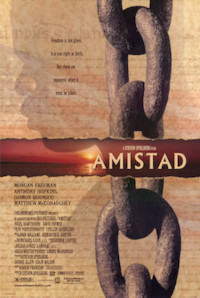 Amistad is a 1997 American historical drama film directed by Steven Spielberg, based on the true story of the events in 1839 aboard the slave ship La Amistad, during which Mende tribesmen abducted for the slave trade managed to gain control of their captors' ship off the coast of Cuba, and the international legal battle that followed their capture by the Washington, a U.S. revenue cutter. The case was ultimately resolved by the U.S. Supreme Court in 1841.
Web Pages
Video Products
Amistad (1997)
, 4 May 1999
Articles
Liberty at the Movies
, by
David Boaz
, 20 Jun 2005
Short reviews of some of Boaz' "all-time favorite libertarian movies" from "Hollywood"
War may be the most awful thing men do, but slavery is also a contender for that title. Steven Spielberg's Amistad (1997) tells a fascinating story about a ship full of Africans who turned up in New England in 1839. The question: Under American law, are they slaves? A long legal battle ensues, going up to the Supreme Court ... Amistad gives us a picture of a society governed by law; even the vile institution of slavery was subject to the rule of law. And when the former president, John Quincy Adams, makes his argument before the Supreme Court, it should inspire us all to appreciate the law that protects our freedom.
Reviews
Amistad (1997)
by Jon Osborne, Miss Liberty's Guide to Film and Video, 2001
Libertarian content: one of the best. Entertainment value: above average.
This is a great example of the importance of individual action in making liberty a reality. ... As the proper inheritors of the Abolitionist tradition—nowadays opposing slavery in all its manifestations and degrees—libertarians will find this and inspiring historical drama.
The introductory paragraph uses material from the Wikipedia article "Amistad (film)" as of 12 Oct 2018, which is released under the Creative Commons Attribution-Share-Alike License 3.0.