1965 movie about life in the middle of the American War Between the States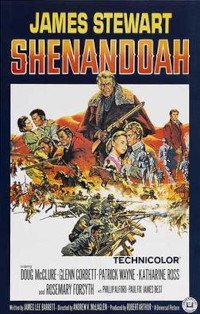 Shenandoah is a 1965 American War Between the States film starring James Stewart, Doug McClure, Glenn Corbett, Patrick Wayne and, in their film debuts, Katharine Ross and Rosemary Forsyth. The film was directed by Andrew V. McLaglen. The American folk song "Oh Shenandoah" features prominently in the film's soundtrack. Though set during the War Between the States, the film's strong antiwar and humanitarian themes resonated with audiences in later years as attitudes began to change toward the Vietnam War. Upon its release, the film was praised for its themes as well as its technical production.
The introductory paragraph uses material from the Wikipedia article "Shenandoah (film)" as of 27 Sep 2018, which is released under the Creative Commons Attribution-Share-Alike License 3.0.