1988 Francis Ford Coppola movie depicting Preston Tucker's introduction of his 1948 sedan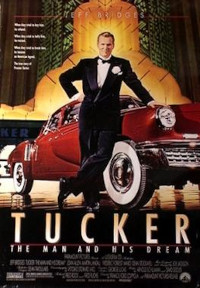 Tucker: The Man and His Dream is a 1988 American biographical comedy-drama film directed by Francis Ford Coppola and starring Jeff Bridges. The film recounts the story of Preston Tucker and his attempt to produce and market the 1948 Tucker Sedan, which was met with scandal between the "Big Three automobile manufacturers" and accusations of stock fraud from the U.S. Securities and Exchange Commission. Joan Allen, Martin Landau, Elias Koteas, Frederic Forrest and Christian Slater appear in supporting roles.
The introductory paragraph uses material from the Wikipedia article "Tucker: The Man and His Dream" as of 22 Sep 2018, which is released under the Creative Commons Attribution-Share-Alike License 3.0.