1999 animated musical movie based on the "South Park" television series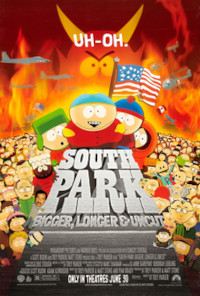 South Park: Bigger, Longer & Uncut is a 1999 American adult animated musical comedy film based on the Comedy Central animated television series South Park. The film was directed by series creator Trey Parker and stars the regular television cast of Trey Parker, Matt Stone, Mary Kay Bergman and Isaac Hayes, with George Clooney, Eric Idle and Mike Judge in supporting roles. The screenplay was written by Parker, Stone and Pam Brady. The film follows the four boys Stan Marsh, Kyle Broflovski, Eric Cartman and Kenny McCormick as they sneak into an R-rated film featuring Canadian actors Terrance and Phillip and begin cursing incessantly. Eventually, their mothers pressure the United States to wage war against Canada for allegedly corrupting their children, giving Cartman, Stan and Kyle no choice but to rescue Terrance and Phillip themselves while Kenny tries to stop a prophecy when Satan and Saddam Hussein conquer the world.
Cast and Crew
Trey Parker
Stan Marsh, Eric Cartman, Satan, Randy Marsh, Mr. Garrison, Mr. Mackey, and more
Matt Stone
Kyle Broflovski, Kenny McCormick, Saddam Hussein and more
Video Products
South Park - Bigger, Longer & Uncut
, 23 Nov 1999
South Park: Bigger, Longer & Uncut [Blu-ray]
, 13 Oct 2009
Articles
Libertarian Movies & Films: The Top 25
List of 25 films considered "best of the best", includes general description, link to longer review page, content topics and review quotes
In the name of saving the children from obscene language, the parents of the South Park kids go to all extremes—including censorship, mind-controlling implants, executions, and finally war on Canada. ... 'While censorship is the filmmakers' main target, Parker and Stone also poo-poo Hollywood elitism, jingoism, racism, homophobia, Winona Ryder, Bill Gates and Conan O'Brien. ... It's all in good dirty fun and in service of their pro-tolerance theme.' –Washington Post
Reviews
South Park: Bigger, Longer & Uncut (1999)
by Jon Osborne, Miss Liberty's Guide to Film and Video, 2001
Libertarian content: 4 (out of 5). Entertainment value: above average
From beginning to end this film is a rebellion. It's a rebellion against governmental constraints on artistic freedom. It's a rebellion against the Motion Picture Association of America rating system (G, PG, R, etc.). And above all it's a rebellion against the whole idea that people should constantly be looking for someone else to blame for their own and their children's behavior.
The introductory paragraph uses material from the Wikipedia article "South Park: Bigger, Longer & Uncut" as of 5 Oct 2018, which is released under the Creative Commons Attribution-Share-Alike License 3.0.