1966 movie based on the Ray Bradbury novel depicting a society where books have been outlawed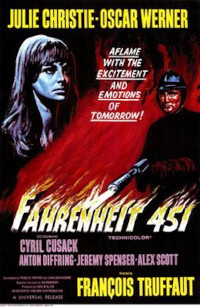 Fahrenheit 451 is a 1966 British dystopian drama film directed by François Truffaut and starring Oskar Werner, Julie Christie and Cyril Cusack. Based on the 1953 novel of the same name by Ray Bradbury, the film takes place in a controlled society in an oppressive future in which the government sends out firemen to destroy all literature to prevent revolution and thinking. This was Truffaut's first color film as well as his only English-language film. At the 1966 Venice Film Festival, Fahrenheit 451 was nominated for the Golden Lion.
The introductory paragraph uses material from the Wikipedia article "Fahrenheit 451 (1966 film)" as of 26 Aug 2018, which is released under the Creative Commons Attribution-Share-Alike License 3.0.