Seventeenth century Dutch jurist, author of De Jure Belli ac Pacis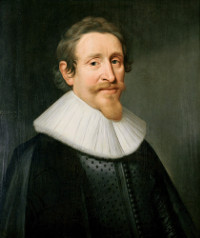 Hugo Grotius (10 April 1583 – 28 August 1645), also known as Huig de Groot or Hugo de Groot, was a Dutch jurist. Along with the earlier works of Francisco de Vitoria and Alberico Gentili, Grotius laid the foundations for international law, based on natural law. A teenage intellectual prodigy, he was imprisoned for his involvement in the intra-Calvinist disputes of the Dutch Republic, but escaped hidden in a chest of books. He wrote most of his major works in exile in France.
The introductory paragraph uses material from the Wikipedia article "Hugo Grotius" as of 11 Jul 2018, which is released under the Creative Commons Attribution-Share-Alike License 3.0.