Author, associate editor of The American Enterprise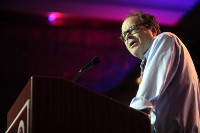 Bill Kauffman (born 15 November 1959) is an American political writer generally aligned with the localist movement. He was born in Batavia, New York, and currently resides in Elba, New York, with his wife and daughter.
The introductory paragraph uses material from the Wikipedia article "Bill Kauffman" as of 23 Jun 2018, which is released under the Creative Commons Attribution-Share-Alike License 3.0.