American-born TV and film actor, creator of the British TV series "The Prisoner"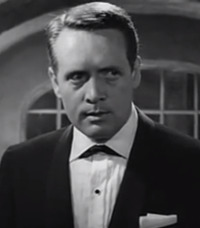 Patrick Joseph McGoohan (19 March 1928 – 13 January 2009) was an American-born Irish actor, writer and director who was brought up in Ireland and England. He began his career in Great Britain in the 1950s, and relocated to the United States in the 1970s. His career-defining roles were in the British 1960s television series Danger Man (US: Secret Agent) and the surreal psychological drama The Prisoner, which he co-created.
The introductory paragraph uses material from the Wikipedia article "Patrick McGoohan" as of 26 May 2018, which is released under the Creative Commons Attribution-Share-Alike License 3.0.