Nineteenth century American politician, noted for his oratory skills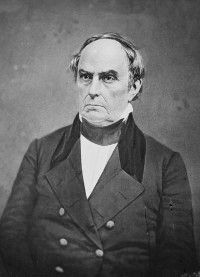 Daniel Webster (18 January 18 1782 – 24 October 1852) was an American politician who represented New Hampshire (1813-1817) and Massachusetts (1823-1827) in the United States House of Representatives; served as a Senator from Massachusetts (1827-1841, 1845-1850); and was the United States Secretary of State under Presidents William Henry Harrison (1841), John Tyler (1841-1843), and Millard Fillmore (1850-1852). He and James G. Blaine are the only people to serve as Secretary of State under three presidents. Webster also sought the Whig Party nomination for President in 1836, 1840 and 1852.
The introductory paragraph uses material from the Wikipedia article "Daniel Webster" as of 14 May 2018, which is released under the Creative Commons Attribution-Share-Alike License 3.0.