Nineteenth century American anarchist, founder of the Modern Times colony (now Brentwood, New York)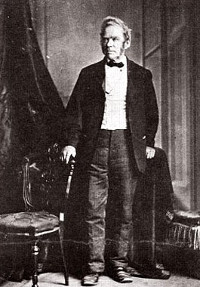 Josiah Warren (1798 – 14 April 1874) was an individualist anarchist, inventor, musician, printer and author in the United States. He is regarded by some as the first American anarchist (though he never used the term himself) and the four-page weekly paper he edited during 1833, The Peaceful Revolutionist, the first anarchist periodical published, an enterprise for which he built his own printing press, cast his own type and made his own printing plates.
Articles
Benjamin Tucker, Individualism, & Liberty: Not the Daughter but the Mother of Order
, by
Wendy McElroy
, Literature of Liberty, 1981
Bibliographical essay covering the people and radical movements that influenced Tucker in his founding and publishing of Liberty, its major themes and contributors
"Josiah Warren (1798–1874) brought together these two themes, the sovereignty of the individual and the labor theory of value. An early Owenite who advocated economic reform through experimental communities, Warren was an original participant in the New Harmony Community of Equity in Indiana (1826–1827). This experience helped to mold his philosophy. However, he became critical of the community's bureaucracy, fearing it would replace voluntary cooperation and the primacy of the individual with a system of authority."
Related Topics:
American War Between the States
,
Anarchism
,
Australia
,
Children
,
France
,
William Lloyd Garrison
,
Henry George
,
Germany
,
Government
,
Auberon Herbert
,
Labor
,
Libertarianism
,
Nonviolent resistance
,
Relationships
,
Freedom of Religion
,
Russia
,
Self-ownership
,
Spain
,
Herbert Spencer
,
Lysander Spooner
,
Benjamin Tucker
The Life of Benjamin R. Tucker: Disclosed by Himself In the Principality of Monaco At the age of 74
Transcribed by Wendy McElroy from Tucker's manuscript; covers mostly the period from his birth to his late teens
"While he was speaking, my eyes fell on a simple old man seated two rows in front of me, whose Socratic features wore an expression of shrewdness and good humor. Suddenly Mr. Heywood, indicating this figure with a gesture, referred to the presence in the hall of 'Josiah Warren, notable for his forty years' pilgrimage through the wilderness of American transgressions.'"
The introductory paragraph uses material from the Wikipedia article "Josiah Warren" as of 26 Jun 2018, which is released under the Creative Commons Attribution-Share-Alike License 3.0.