1959 Cold War comedy starring Peter Sellers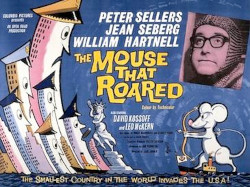 The Mouse That Roared is a 1959 British satirical Eastman Color comedy film based on Leonard Wibberley's novel The Mouse That Roared (1955). It stars Peter Sellers in three roles: Duchess Gloriana XII; Count Rupert Mountjoy, the Prime Minister, and Tully Bascomb, the military leader; and co-stars Jean Seberg. The film was directed by Jack Arnold, and the screenplay was written by Roger MacDougall and Stanley Mann.
The introductory paragraph uses material from the Wikipedia article "The Mouse That Roared (film)" as of 20 Aug 2018, which is released under the Creative Commons Attribution-Share-Alike License 3.0.