1949 British film, winner of BAFTA Best Film award, set in post WWII Vienna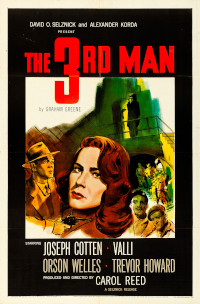 The Third Man is a 1949 British film noir directed by Carol Reed, written by Graham Greene, and starring Joseph Cotten, Alida Valli, Orson Welles and Trevor Howard. The film is set in post–World War II Vienna. It centers on Holly Martins, an American who is given a job in Vienna by his friend Harry Lime, but when Holly arrives in Vienna he gets the news that Lime is dead. Martins then meets with Lime's acquaintances in an attempt to investigate what he considers a suspicious death.
The introductory paragraph uses material from the Wikipedia article "The Third Man" as of 24 Sep 2018, which is released under the Creative Commons Attribution-Share-Alike License 3.0.