Seventh President of the United States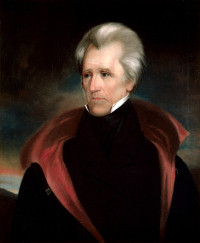 Andrew Jackson (15 March 1767 – 8 June 1845) was an American soldier and statesman who served as the seventh president of the United States from 1829 to 1837. Before being elected to the presidency, Jackson gained fame as a general in the United States Army and served in both houses of Congress. As president, Jackson sought to advance the rights of the "common man" against a "corrupt aristocracy" and to preserve the Union.
Articles
Bureaucracy and the Civil Service in the United States
, by
Murray Rothbard
, The Journal of Libertarian Studies, 1995
Historical account of the evolution of the United States Civil Service and attempts to reform it, from its beginnings through the early 20th century
"Jackson, an ardent Jeffersonian and Old Republican, was, like other Jacksonian leaders, dedicated to a new Democratic Party that would restore original Jeffersonian Republican principles of laissez-faire and ultra-minimal government. Jackson followed Jefferson in managing, for the second and presumably the last time in American history, to repay the national debt ..."
The introductory paragraph uses material from the Wikipedia article "Andrew Jackson" as of 21 May 2018, which is released under the Creative Commons Attribution-Share-Alike License 3.0.