Eight President of the United States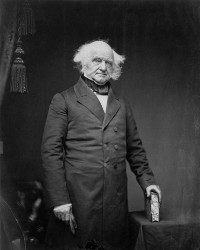 Martin Van Buren (5 December 1782 – 24 July 1862) was an American statesman who served as the eighth President of the United States from 1837 to 1841. A founder of the Democratic Party, he served as the ninth Governor of New York, the tenth Secretary of State, and the eighth Vice President. Van Buren won the 1836 presidential election based on the popularity of outgoing President Andrew Jackson and the organizational strength of the Democratic Party. He lost his 1840 re-election bid to Whig Party nominee William Henry Harrison due in part to the poor economic conditions of the Panic of 1837. Later in his life, Van Buren emerged as an important anti-slavery leader, and he led the Free Soil ticket in the 1848 presidential election.
Born
Articles
Bureaucracy and the Civil Service in the United States
, by
Murray Rothbard
, The Journal of Libertarian Studies, 1995
Historical account of the evolution of the United States Civil Service and attempts to reform it, from its beginnings through the early 20th century
"... Martin Van Buren, the brilliant political tactician who had been inspired by a weekend with Jefferson at Monticello in May 1824 to spend his life forming a new political party — later to be the Democratic Party — dedicated to taking back America for the old cause, for the libertarian Old Republican ideals of 1776 and 1798."
Martin Van Buren: The American Gladstone
, by
Jeffrey Rogers Hummel
, Reassessing the Presidency, 2001
"Van Buren was a lawyer-president who represented a new breed of professional politician. ... a close examination of Van Buren's four years in office reveals that historians have grossly underrated his many remarkable accomplishments against heavy odds. These, in my opinion, rank Martin Van Buren as the greatest president in American history."
Martin Van Buren: The Greatest American President
[PDF], by
Jeffrey Rogers Hummel
, The Independent Review, 1999
"While avoiding foreign wars, he ... reduced the power and reach of central authority in the face of stiff resistance ... Americans once enjoyed greater freedom from government intervention than any other people. For that accomplishment, Martin Van Buren deserves as much credit as any other single individual ..."
The introductory paragraph uses material from the Wikipedia article "Martin Van Buren" as of 26 May 2018, which is released under the Creative Commons Attribution-Share-Alike License 3.0.