Taller, louder half of Penn and Teller magician duo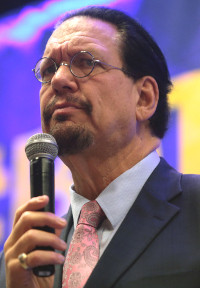 Penn Fraser Jillette (born 5 March 1955) is an American magician, juggler, comedian, musician, inventor, actor, filmmaker, television personality and best-selling author known for his work with fellow magician Teller as half of the team Penn & Teller. The duo have been featured in numerous stage and television shows such as Penn & Teller: Fool Us, and Penn & Teller: Bullshit, and are currently headlining in Las Vegas at The Rio. Jillette serves as the act's orator and raconteur.
The introductory paragraph uses material from the Wikipedia article "Penn Jillette" as of 16 Jun 2018, which is released under the Creative Commons Attribution-Share-Alike License 3.0.