Seventeenth President of the United States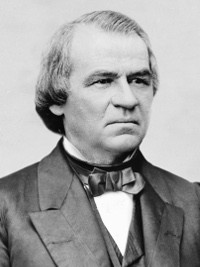 Andrew Johnson (29 December 1808 – 31 July 1875) was the 17th President of the United States, serving from 1865 to 1869. Johnson became president as he was vice president at the time of the assassination of Abraham Lincoln. A Democrat who ran with Lincoln on the National Union ticket, Johnson came to office as the War Between the States concluded. The new president favored quick restoration of the seceded states to the Union. His plans did not give protection to the former slaves, and he came into conflict with the Republican-dominated Congress, culminating in his impeachment by the House of Representatives. He was acquitted in the Senate by one vote.
Articles
Bureaucracy and the Civil Service in the United States
, by
Murray N. Rothbard
, The Journal of Libertarian Studies, 1995
Historical examination of the evolution of the United States Civil Service and attempts to reform it, from its beginnings through the early 20th century
Vice-President Andrew Johnson was a Union Democrat ... and his moderate policies on Reconstruction deeply angered the Radicals ... Jenckes ... was now trying to block Johnson from using his own patronage powers to oust the Lincoln Radicals ... in March 1867, Congress passed the Tenure of Office Act over Johnson's veto, providing ... that the President could not remove any officer ... without Senate approval. Indeed, it was Johnson's insistence on firing the Radical Edwin M. Stanton as Secretary of War that brought the House to impeach Johnson, and for the Senate to acquit him in his impeachment trial by one vote in May, 1868.
The introductory paragraph uses material from the Wikipedia article "Andrew Johnson" as of 28 May 2018, which is released under the Creative Commons Attribution-Share-Alike License 3.0.